Stevil is an award winning American rock group based out of Western New York, currently composed of lead singer/guitar player Stevil (Stephen Wolford) and rhythm guitarist Dan Sprague during live performances. Stevil was founded in 2005 by Stephen Wolford, and after a few line-up changes a full band was formed in 2015 for tours. Stevil has put out 3 demo albums; 'Music for Bipeds', 'Music for Tripeds', and 'Music for Quadrupeds', as well as the full length 'Mirror Symmetry' and has toured extensively. They are best known for their singles "Hangover", "Getting Old", and "I Will Not Go".
Stevil albums are performed, recorded, mixed, mastered, etc. by Stevil (Stephen Wolford). Guitars, Drums, Bass, Keyboards, and Vocals are all performed one at a time and then layered on top of each other; making Stevil a one man band.
Musically, Stevil is characterized by its mix of psychedelic, grunge, industrial, black/death metal, rap, pop, and experimental influences, and has expressed in multiple interviews that they try to make music that defies traditional genres so that their fans can label them as they see fit. Stevil has gone through a handful of slogans including "shitty music for shitty people", "The greatest band in a 5 foot radius", "we're a band…" and "we're not a band…".
After signing with "Single Second Studios" in 2016, Stevil has gone on to open for other major acts, and has headlined numerous shows in the U.S.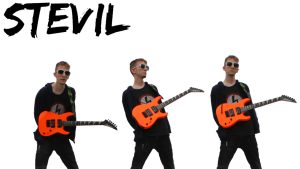 Personnel::
–Stevil – Lead singer/songwriter & musician on all Stevil albums
–Dan Sprague – Guitar (2016-present)
Former:
–Chris Oliveras – drums (2020)
–Liz Dirschberger – backup vocals (2020)
–Mat Schroder – drummer (2016-2017)
–Scott Daniels – bass player (2016)
–Justin Canon – synth player (2016)